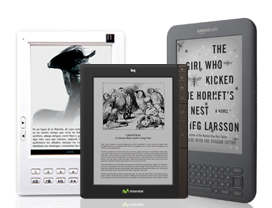 The Recorded Books RBDigital Downloadable Audio group subscription program is open to Vermont public libraries. Managed by the Department of Libraries, the program allows libraries to offer a wide selection of audiobooks and eBooks to patrons. While the Department does not offer direct funding for the program, it is able to make the subscription as cost-efficient as possible by negotiating a discount.
Learn more about Recorded Books OneClickdigital.
The subscription runs from April 1 to March 31, and signup will be offered in February.
The 2017-2018 sign up for OneClickdigital has passed, but the links below may be useful for informational purposes:
Program Announcement
2017 Agreement Form
Currently subscribing libraries with technical questions should contact yoursupport@recordedbooks.com or 877-772-8346.
Downloadable MARC records for current subscribing libraries:
Download Instructions
Sample Records
RBDigital marketing materials are available at: https://www.recordedbooks.com/Resources/Marketing-Materials
Vermont public libraries interested in other ways to offer eBooks and audiobooks to their patrons can also contact the Green Mountain Library Consortium or consider joining the Vermont Online Library.