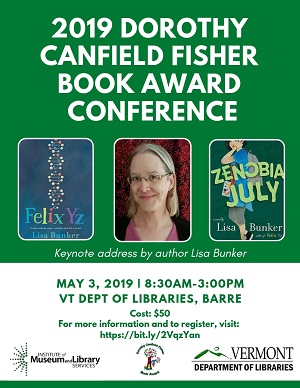 (click to enlarge)
This is the official registration form for the 2019 Dorothy Canfield Fisher Book Award Conference.
We are thrilled to offer another dynamic conference for librarians and educators, including a keynote address by author Lisa Bunker, several engaging workshops, and a chance to network with colleagues. We hope you will join us!
Date: Friday, May 3, 2019
The registration deadline will be Friday, April 26. Registrations can be cancelled with no penalty (and receive a refund) before Friday, April 26. Registrations cancelled after Friday, April 26 - barring a serious emergency - will not receive a refund. Registrations may be transferred at any time.
Parking information is forthcoming.
Time: 9:00am-3:00pm
A light breakfast and coffee will be offered at 8:30am. Lunch will not be provided, so please plan to bring a bag lunch or visit one of our local Barre establishments.
Location: Vermont Department of Libraries, Barre
Cost: $50 per person
Registration fees can be paid by check or via PayPal. Purchase orders will not be accepted. Fees should be paid before the conference.
If you wish to pay via PayPal, visit this link.
If you wish to pay by check, send a check payable to the Friends of Dorothy Canfield Fisher to:
Friends of Dorothy Canfield Fisher
c/o Vermont Department of Libraries
60 Washington Street, Suite 2
Barre, VT 05641
*If you will require an invoice, please make sure you indicate this on the form below. It will be emailed to the address you provided above within 10 days of your registration.*
*If you will require a receipt, please make sure you indicate this on the form below. It will be emailed to the address you provided above after payment is received.*