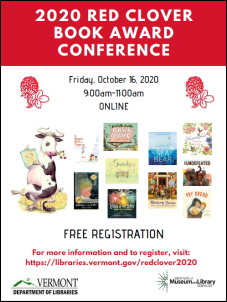 Conference Poster (Click to Open PDF)
2020 Red Clover Book Award Conference
Event Type: Virtual Conference
Date: 10/16/2020
Start Time: 9:00 AM
End Time: 1100 AM
***FREE REGISTRATION***
Join VTLIB and the Red Clover Book Award Committee for our 2020 virtual conference! The committee will introduce the 2020-2021 list, share some of the books that almost made the list, and provide some programming/curriculum ideas to go along with the nominees. We'll also be sharing exclusive videos with the authors of several of this year's nominees!
Registration is open until all 250 spots are filled. After registering, an email confirming your registration will be sent within 2-3 business days. Information about accessing the conference via Microsoft Teams and purchasing books from local vendors will be emailed closer to the event. Please make sure to provide your email address on the registration form.
While sets of the 2020-2021 nominees will not be provided this year, the first 200 attendees from Vermont to register for the conference will have an opportunity to select one book from this year's list. Attendees can also opt to give their book to another library that may not already have books on the list. Books will be purchased and distributed after the conference.
The conference will be recorded and available on the VTLIB website within a few days after the conference. Please do not register for the conference if you cannot attend live. The registration counts help us determine when we reach max capacity for our webinar platform. If there are any giveaway books available after the conference happens, we will offer the same options to folx who watch the recording (as supplies last.)
A virtual coffee chat will be held from 8:30-8:45pm for those who are interested!
------
Agenda
8:30-8:45 --- Virtual Coffee Chat
9:00-9:15 --- Welcome & Introduction
9:15-9:50 --- Introduction to New List & Author Videos
9:50-10:10 --- The Honor List
10:10-10:25 --- MC's Art Activities (selection of 3)
10:25-10:30 --- Lis's Writing Prompts
10:30-10:55 --- Group Sharing Session/Q&A
10:55-11:00 --- Closing/Goodbye