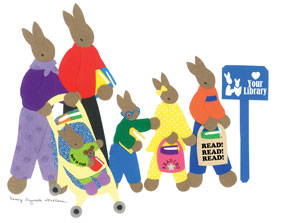 Take Your Child to the Library Day (TYCLD) is an annual library awareness event that began in Connecticut in 2011 and quickly spread nation-wide. TYCLD showcases what libraries are doing for children and raises public awareness of the importance of library services to children.
How to Participate
Participation is easy and entirely flexible. You can hold a special event, or simply highlight a program you already do. To join in:
Choose a day – this could be the "official" date, or any other day that is best for your community
Advertise with the downloadable logos and artwork
Register online for free
Email Youth Services Consultant Sharon Colvin and tell us what day you chose
Additional Resources
Printable bookmarks and stickers, program ideas, and other resources are available from neighboring library associations:
Check out the growing list of participants on the TYCLD blog.
2016 Vermont Participants
Poultney Public Library - Saturday February 6 - Friday February 12
Highgate Public Library - Wednesday February 24
South Burlington Community Library - Saturday February 6
Morristown Centennial Library - Saturday February 6
Fletcher Memorial Library (Ludlow) - Wednesday February 10
Carpenter Carse Library (Hinesbury) - Saturday February 6
2015 Vermont Participants
Alburgh Public Library
Bennington Free Library – Saturday, March 7
Bent Northrop Memorial Library (Fairfield) – Thursday, March 5
Brown Public Library (Northfield) – Thursday, March 5
Brownell Library (Essex Junction) – Saturday, March 7
Cavendish Fletcher Community Library (Proctorsville)
Fairfax Community Library
Fletcher Memorial Library (Ludlow)
Hartland Public Library – Friday, February 6
Haskell Free Library (Derby Line) – Tuesday, March 3
Lanpher Memorial Library (Hyde Park)
Morristown Centennial Library
Norman Williams Public Library (Woodstock) – Saturday, March 7
Pettee Memorial Library (Wilmington) – Saturday, March 7
Readsboro Community Library
R. K. Kittay Public Library (Rupert)
Rockingham Free Library (Bellows Falls) – Saturday, February 7
St. Albans Free Library – Saturday, March 7
South Burlington Community Library
Springfield Town Library – Saturday, January 31
Stowe Free Library
Wardsboro Public Library – Saturday, March 7
Westford Public Library – Saturday, March 7
Whiting Library (Chester) – Wednesday, March 4
Wilder Memorial Library (Weston)
Winooski Memorial Library – Tuesday, March 3