Tuesday Talks was a speaker series created by VTLIB specifically for State Employees. Started in January, 2019, Tuesday Talks were presented during the lunch hour on the third Tuesday each month. The topic and speaker changed each month, but wasalways be relevant to events or trends in Vermont that affect State Employees. The program is currently on hiatus as we evaluate and update based on attendance and feedback. Information about past Tuesday Talks is available below, including any recordings.
Past Tuesday Talks:
November 2019
Join speakers from both the Vermont Food Bank and the Hunger Council of Vermont for a frank discussion about food insecurity in our state with a focus on the populations and support services here in Washington County. Be part of the conversation and bring a canned good to support local food programs! 
October 2019
The October program is Raising Spirits: Spooky Stories from Vermont Public Records, and features four speakers from the Vermont State Archives and Records Administration (VSARA). Public records hold clues to many tales, including those of grisly murders, the special powers of spirit mediums, tragic disasters, and mysterious disappearances.  In the spirit of Archives Month – and Halloween – staff and friends of the Vermont State Archives and Records Administration will share what they discovered in the state archives that put some meat on the bare-boned facts. The speakers will be: Sally Blanchard-O'Brien (Archivist), Mariessa Dobrick (Archivist),  Brian Lindner (Historian), and Chris Winters (Deputy Secretary of State).
September 2019
In September, Brenda Gagne, Coordinator of the Abenaki Circle of Courage Youth Group for 22 years, will speak about this innovative program, contemporary tribal perspectives and indigenous language preservation. The Circle of Courage is a highly regarded after-school initiative fostering the tenets of belonging, generosity, independence, and mastery in Swanton and Highgate. 
August 2019
In August, the speaker will be Laurie Stavrand and the topic is "Focus on Vermont's Refugee and Resettled Populations." Laurie Stavrand is the Community Partnership Coordinator at the Vermont Refugee Resettlement Program, part of a national network that breaks through social, cultural, and economic barriers so previously interrupted lives can flourish. Ms. Stavrand will speak about the resettlement programs/populations in Vermont as well as the organization's mission and services.
Event Recording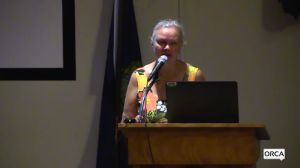 July 2019
The topic for July's speaker is "The Paradox of Development in Twentieth Century Vermont." Paul Searls's new book, Repeopling Vermont: The Paradox of Development in the Twentieth Century, examines many of the central tensions in Vermont's history and culture over the last hundred years. In this noontime talk about the evolution of Vermont in the twentieth century, Searls will focus on the tension between efforts to preserve the natural landscape and the effect of those efforts on the human landscape, themes that still resonate and inspire passion in today's Vermont.
Dr. Paul Searls is Professor of History at Northern Vermont University, where he specializes in Vermont history. He received his Ph.D. from New York University.
Event Recording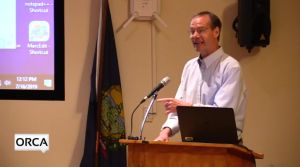 June 2019
This month we have two speakers from SafeArt, an organization that works with trauma survivors to help them engage with and transform emotional, mental, and physical injuries of all kinds. Defining trauma as any held injury in body, mind, and soul.  The organization has witnessed the healing power of creative expression as beneficial for all and has added offerings to the broader community in addition to our trauma-focused programs. All of their programming continues to be inclusive of everyone and trauma-informed.
Stop by and hear how creativity and the expressive arts work as tools to support mental health and overall well-being. Mitch Beck and Cleopatra Griffin will share their personal stories and explain SafeArt's role in the outcome of their stories.  They will use poems and excerpts for the two books SafeArt has published.  Mitch will share her most recent painting and poem that truly illustrates the work that SafeArt does.
Event Recording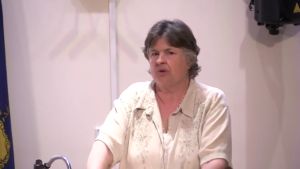 May 2019
The May 21st Tuesday Talk, "Focus on Vermont's Forests: The Emerald Ash Borer" will be led by Elise Schadler of the Vermont Urban and Community Forestry Program. Ms. Schadler is on the front lines helping towns prepare for and respond to the invasive emerald ash borer. Currently they have been confirmed in Orange, Washington, Caledonia, Grand Isle, and Bennington counties Please join us to learn more about the emerald ash borer and what you can do to slow the spread.
Event Recording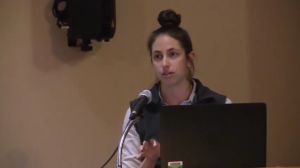 April 2019
Jolinda LaClair will lead our April 16th Tuesday Talk, "Vermont's Response to the Opioid Epidemic: Notes from the Field."  Ms. LeClair is Director of Drug Prevention Policy, with oversight and management of Vermont's Opioid Coordination Council. She and her invited guests will highlight some inter-and-intra-agency initiatives that have been developed in the areas of prevention, treatment and recovery. She has two children, two grandchildren and a labradoodle named Nelson.
No Recording Available
March 2019
The title of the March talk is "Vermont Visions for a Multicultural Future: Unleash Your Creative Authority," with guest speaker Curtiss Reed, Jr. Demographers indicate the number of consumers of color in the nation will overtake the number of white consumers in a scant 24 years. Business, civic, and town leaders must begin exercising their creative authority to make our communities competitive in a rapidly increasing racially diverse marketplace.
Curtiss Reed, Jr. serves as executive director of Vermont Partnership for Fairness & Diversity, an organization that works to strengthen inclusive and equitable practices in Vermont. In addition, Reed serves as chair of the Vermont State Advisory Committee to the United States Commission on Civil Rights. He is a founding member of Vermont Independent Media, publisher of the award-winning Commons newspaper, as well as founding member of the Brattleboro Community Restorative Justice Center.
No Recording Available
February 2019
In February, the topic will be Vermont Women: The Pay Gap, Representation, and Advancement  and the speaker will be Cary Brown from the Vermont Commission on Women. We've come a long way since women were paid 59 cents to men's dollar, but women in Vermont are still playing catch up. In Vermont 43% of women working full time aren't making enough to cover their basic needs, and they're seriously underrepresented in many fields and at the highest levels of leadership. But Vermont is also ahead of the pack in many ways when it comes to women's advancement, and we'll talk about the good news as well as the challenges on the horizon.
Cary Brown is the Executive Director of the Vermont Commission on Women, a state agency working to advance rights and opportunities for women and girls since 1964. She's worked in the gender equity field in Vermont in nonprofits, educational institutions, and government. She lives in Montpelier with her family, where she is a Justice of the Peace.
No Recording Available
January 2019
In January, the topic will be education, and the speaker will be Kathleen Kesson. Kesson will be speaking about the idea of "personalized learning" which is discussed in her book Unschooling in Paradise. This idea requires a shift in the way we think about student learning, the role of teachers, and the relationship between schools and communities.
Kathleen Kesson is Professor Emerita of Teaching, Learning and Leadership in the School of Education at LIU-Brooklyn.  She is the former Director of Teacher Education at Goddard College, and was Director of the John Dewey Project on Progressive Education at the University of Vermont.  Her work appears in numerous academic journals and in the books Curriculum Wisdom: Educational Decisions in Democratic Societies and Understanding Democratic Curriculum Leadership (both with James Henderson) and Defending Public Schools: Teaching for a Democratic Society (with Wayne Ross). 
No Recording Available