Update - The Library for the Blind and Physically Handicapped has been renamed the ABLE Library, an acronym that stands for our primary services - Audio, Braille, Large-print, and Ebooks. We'll still be offering the same resources to our patrons, but under a more descriptive and contemporary name.
The ABLE Library provides services to the visually impaired and print disabled as well as state supported institutions.
To receive services you must fill out and submit the Application for ABLE Library Services. 
Search our Library Catalog to find:
Large print books
Print braille books
Digital talking books
Audio-described DVDs and videos
Additional Sources of Information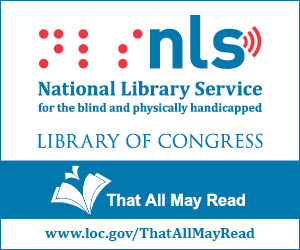 That All May Read
Video by the National Library Service for the Blind and Physically Handicapped: