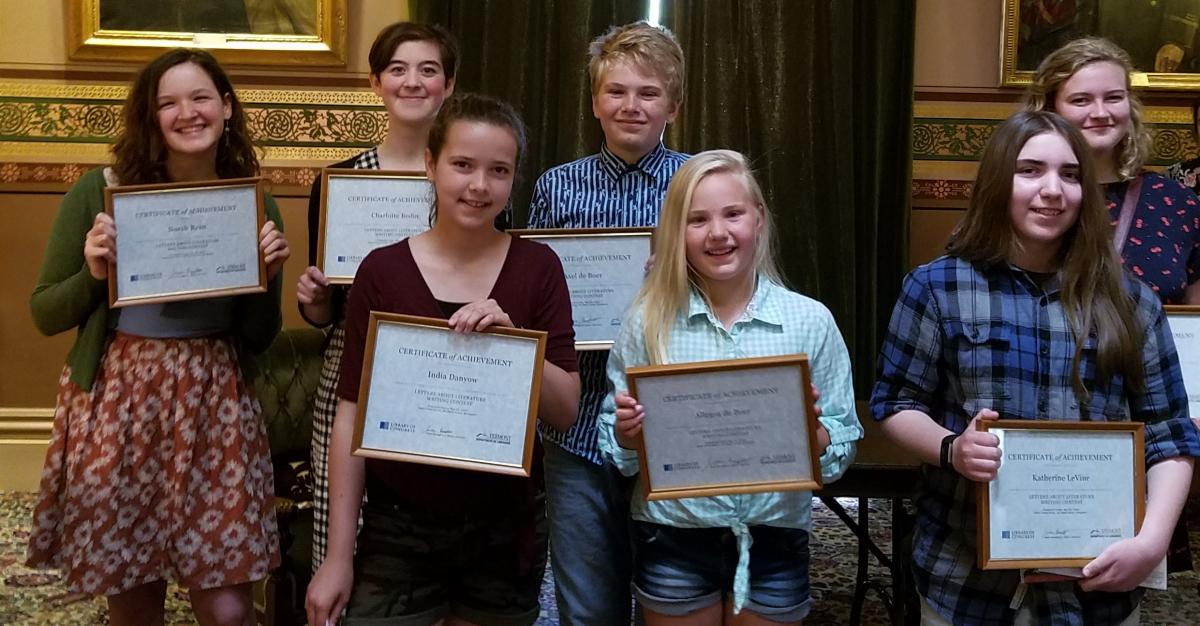 Back row (L to R): Norah Ryan, Charlotte Bodin, Axel de Boer, Magnolia Rice
Front Row (L to R): India Danyow, Allegra de Boer, Katherine LeVine
**
The Vermont Letters about Literature winners were honored at a ceremony at the State House in Montpelier on Friday, May 31.
The Letters about Literature (LAL) writing contest, now in its 26th year, is sponsored by the Center for the Book at the Library of Congress and the Dollar General Literacy Foundation.  The Vermont Department of Libraries receives support from the Library of Congress to facilitate the Vermont state competition.
The LAL writing contest, which opens in the fall, asks students in grades 4-12 to write a letter to an author (living or dead) of a book, short story, poem, essay, or speech that changed their view of themselves or the world. These letters are meant to be deeply reflective and illustrate just how the author's work had a personal impact on the letter-writer. Past winners have written to authors as diverse as Dave Ramsey of The Total Money Makeover to Anne Frank of her Diary of a Young Girl. Our Vermont students are living a multitude of vibrant, and often challenging, lives, and every genre or type of work has the potential to strike a chord.
This year, the guidelines for letters were more stringent. Letters had to be between 400 and 800 words and follow a very specific format. This year was also the first year that students or their teachers could upload their letters onto a web platform to expedite the judging process. Despite these changes, Vermont students submitted 138 letters to the Library of Congress for initial round 1 judging. Of those letters, 112 met the criteria for entry into round 2, which is our Vermont state competition.
Letters are divided into three different levels of judging: level 1 (grades 4-6) level 2 (grades 7-8) and level 3 (grades 9-12.) VTLIB employees read all 112 round 2 letters and judged them according to the same rubric. First place winners were entered in the national Letters about Literature competition, competing against other state winners from all of the country. National winners receive a cash prize and are honored at a ceremony in Washington, D.C. We expect those results very soon, so stay tuned.
The Winners
Level 1 winner: India Danyow, a sixth grader from the Bridge School in Middlebury who hails from Brandon. India wrote a letter to Robie H. Harris, author of the book It's Perfectly Normal: Changing Bodies, Growing Up, Sex, and Sexual Health.
Watch India Read Her Letter *coming soon*
Level 2 winner: Katherine LeVine, a seventh grader from The Dorset School in East Dorset. She wrote a letter to Jerry Spinelli about his book Stargirl.
Watch Katherine Read Her Letter *coming soon*
Level 3 winner: Charlotte Bodin of Middlesex, an eleventh grader from U-32 High School in Montpelier. She wrote a letter to Madeline Miller about her book The Song of Achilles.
Watch Charlotte Read Her Letter *coming soon*
The Runner-Ups
Second place for Level 1- Allegra de Boer, Bridge School, Middlebury, who wrote to Elena Favilli and Francesca Cavallo about their book Good Night Stories for Rebel Girls: 100 Tales of Extraordinary Women
Second place for Level 3- Magnolia Rice, Woodstock Union High School, Woodstock, who wrote to Julie Murphy about her book Puddin'
Third place for Level 1- Axel de Boer, Bridge School, Middlebury, who wrote to Tamora Pierce about her book The First Test
Third place for Level 3 – Norah Ryan, U-32 High School, Montpelier, who wrote to Margaret Atwood about her book Cat's Eye