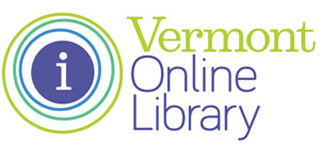 All Vermonters now have access to a wealth of online resources provided by the Vermont Online Library (VOL)! This page will help your library get to know VOL, and it'll provide tools for you to connect to the VOL resources and make them available to your library community.
What does Vermont Online Library offer?
The Vermont Online Library (VOL) offers a wide array of electronic databases on a variety of topics geared to a variety of age levels, for both generalists and specialists. These resources are available 24 hours-a-day anywhere Internet access is available. The information is produced by known and trusted publishers.
For all Vermont public, academic, and school libraries:
Gale Cengage databases
For Public Libraries, only:
HeritageQuest genealogical research tools (from ProQuest)
Universal Class online learning (from Recorded Books)
How should we access VOL resources? What link(s) should we use online?
Depending on your library's specific needs, we recommend four different ways to point users to the VOL resources. Choose the method(s) that will work best!
Post links to specific subject areas, to highlight resources that are of interest in your community:
Career and Job Resources           http://vtonlinelib.org/career.php
eBooks (non-fiction)                      http://vtonlinelib.org/ebooks.php
K12 Resources                             http://vtonlinelib.org/k12.php
Newspapers & Magazines            http://vtonlinelib.org/eresources.php
Small Business Resources           http://vtonlinelib.org/smallbusiness.php
Browse by user group or topic      http://vtonlinelib.org/persona.php
To feature particular resources, use the direct URLs for each one. Visit https://support.gale.com/vol  and enter your library's name to generate a list of all the URLs for your VOL resources. Simply copy the ones you need, and add them to your website!
TIP: Post database icons with the URL as a hyperlink for greater "findability" and visual interest. http://support.gale.com/icon Enter your library's Location ID or VUC# code (example: vol_m761c). Then scroll to the resource of your choice and right-click to save the image.
Use colorful widgets to lead into resources http://support.gale.com/widgets and enter your library's Location ID or VUC# code (ex. vol_m761c). Then scroll to the resource of your choice and choose the type of coding needed for your website.
How will users be authenticated for access?
In Vermont: No Authentication Needed
Automatic technology called Geo-IP will figure out if the IP address of the computer, tablet, or other device is an IP address known to originate within Vermont. Once the user's IP address is identified as originating within Vermont, or the user shares their location, they can get started using VOL resources accessible to the closest VOL library.
Library computers will be prompted regarding location services.  Please select allow always.
Outside Vermont: Password Required
In the event that the local library is not identified, or if the user is located outside of Vermont, they may be required to use a password. Please contact your librarian to learn the password.
Where can librarians get more information on the VOL resources?
Visit the support site to find a variety of tools http://www.galesupport.com/vol/
Promotional tools
Training webinars and tutorial videos
On-demand Tutorials 
Training Materials
Database information handouts
MARC records for ebooks
Usage reports
How do I check usage statistics on the Gale resources?
Pull reports at Gale Admin http://admin.galegroup.com/galeadmin/login.gale
Don't know your library's Gale Admin credentials? Contact Tom McMurdo for assistance: thomas.mcmurdo@vermont.gov
How can I advertise our VOL resources?
Log in to with www.galepromo.com with your pre-existing credentials, or the following:
               Username: gale112825
               Password:  112825
Click on "Easy Creation" and then choose "Vermont Library". Select an item and follow the steps to place a free order for printed materials.
You can also download and print Universal Class promotional material for your library. You can find those marketing materials at https://www.recordedbooks.com/Resources/Marketing-Materials/Digital-Resources/Universal-Class
Whom can I contact if I have questions?
Tom McMurdo
thomas.mcmurdo@vermont.gov 
802-828-2727
Gale Technical Support
Gale.TechnicalSupport@cengage.com
1-800-877-4253 option 4
Gale Customer Success Manager
Gale.CustomerSuccess@cengage.com
HeritageQuest
customerservice@proquest.com
1-800-521-0600. 
Universal Class
universalclass@recordedbooks.com