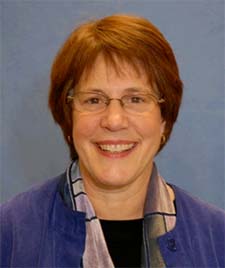 The Vermont State Librarian is appointed by the Secretary of Administration, with the approval of the Governor, and serves as the chief administrator of the Department of Libraries.
Martha (Marty) Reid was appointed as State Librarian in August 2008 after working for more than 30 years in public libraries in Virginia, Connecticut, Colorado, and Vermont. Her public library experience included positions in youth services, reference, collection management and as Director of the Burnham Memorial Library in Colchester, Vermont. An Ohio native, Reid has a B.A. in English from Muskingum College (OH) and an M.A. in Library Science from the University of Wisconsin-Madison. She lives in South Burlington, Vermont. 
The State Librarian:
Sets vision and direction for the Department of Libraries (VTLIB)
Administers the state strategic plan and the 5-year federal Library Services & Technology Act (LSTA) plan
Prepares and administers the VTLIB budget
Serves as Secretary of the Vermont Board of Libraries
Serves as President of the Vermont Public Library Foundation
Serves as the Department's primary liaison with national library organizations, including Chief Officers of State Library Agencies (COSLA) and the Institute of Museum and Library Services (IMLS)
Collaborates with government, library, and non-profit organizations on issues of public policy related to library service to citizens, literacy, broadband and emerging technologies, economic development, workforce development, open access to information and intellectual freedom, the arts and humanities, lifelong learning, and healthy children and families.
Contact the Office of the State Librarian at (802) 828-3261.