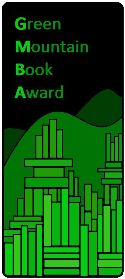 The Green Mountain Book Award (GMBA), initiated in 2005, is a reader's choice award for Vermont students in grades 9 - 12. The program is intended to encourage high schoolers to become enthusiastic and discriminating readers. It is recommended that students read at least three of the year's 15 nominated titles before voting in the spring.
2018-2019 Program / Past Nominees and Winners / Additional Resources / Publisher Submission Guidelines / Committee
Special Notice!
Dear reader, the Green Mountain Book Award committee is looking for new members!
Each year, the GMBA committee selects the 15 GMBA titles that make up the following year's GMBA list. Committee members must be able to:
read and recommend YA books throughout the year
meet 4 times per year in person in the central Vermont area for 2-3 hr meetings + 1 full day-long meeting in March*
Locally promote the current GMBA list & teen involvement
fulfill other committee duties, as needed
The committee is searching for two new adult members and two new teen members to join the team! If you are interested, please send the following to committee Chair Kelsey Psaute (kpsaute@colchestervt.gov) or Vice Chair Kara Rosenberg (kara.s.rosenberg@gmail.com):
brief resume or activities list
paragraph stating your interest in the committee
Two paragraph long book reviews (one positive and one negative) for YA titles published within the last three years
Teens Only: a letter of recommendation from an adult who can speak to the teen's ability to read consistently, to discuss books, and to participate in meetings
The committee would like these applications by Monday, Dec 31st. If you have any additional questions, please contact Kelsey Psaute or Youth Services Consultant Cass Mabbott (cass.mabbott@vermont.gov.).
*most meetings are held at the VT Department of Libraries
Upcoming dates for new committee members are:
March 18th (invited to attend and observe this year's process)
June 10th 4-6pm Orientation and schedule/start the reading year
2018-2019 Program
Order GMBA Spine Labels *form closed as we restock*
Past Nominees and Winners
Additional Resources
Publisher Submission Guidelines
Books to be considered by the GMBA Committee can be submitted by publishers. Five copies of each title, which will be circulated to committee members, should be sent to:
GMBA Committee
c/o Vermont Department of Libraries
60 Washington St., Suite 2
Barre, VT 05641
Books published in the current calendar year may be sent at any time during the year. However, sending books as soon as feasible makes it possible to give all books more careful consideration.
The committee reviews books from June - December of each year.  In order to be considered, books must be received by the end of the calendar year in which they were published.
Publishers are invited to submit books that meet the following criteria:
The book must have been published in the current calendar year. Reprints and compilations previously copyrighted are not eligible.
Sequels are rarely considered.  Please do not send sequels unless we specifically request a title.
The book must be original or, if traditional in origin, the result of individual research. The retelling and reinterpretation must be the writer's own.
All forms of writing are eligible for consideration – fiction, non-fiction, short stories, graphic novels and poetry.
Books written by a previous recipient of the GMBA Award may be considered at the discretion of the committee.
Books should have teens as their intended audience and be appropriate for teens in grades nine through twelve.
Questions may be addressed to Youth Services Consultant Cass Mabbott.
Committee
The 2018-19 GMBA committee is: