Members
Bruce Post, Essex Junction - Chair
Deborah Granquist, Weston - Vice Chair
Jason Broughton, State Librarian - Secretary
Maxie Ewins, Shelburne
Tom Frank, Milton
Rebekah Irwin, Middlebury
Linda Saarinjoki, Weston
Subcommittees
Geographic Naming Committee: Broughton, Post
Minimum Standards for Public Libraries Committee: Broughton, Granquist
Vision for Vermont Libraries Committee: Broughton
The Board acts in an advisory capacity to the State Librarian as stated in the Establishing Statutes. The Board of Libraries is also responsible for geographic naming duties for the state of Vermont. To assist in this process the Board has created the Geographic Naming Policies. Please see the Named State Highways and Bridges list for recent naming decision. For more information on how to file a petition, please contact Lauren Wallace at lauren.wallace@vermont.gov or (802) 636-0021.
Contact
To contact the board, or for media inquiries, please use the Contact Us form.
Board Meetings
The Board generally meets the second Tuesday of the month on a quarterly basis and when any special meetings are called. Board of Library meetings are open to the public.
Next Regular Meeting:
July 14th, 10 am-12 pm, Regular Meeting of the Board
Agenda
Instructions for joining a Microsoft Teams meeting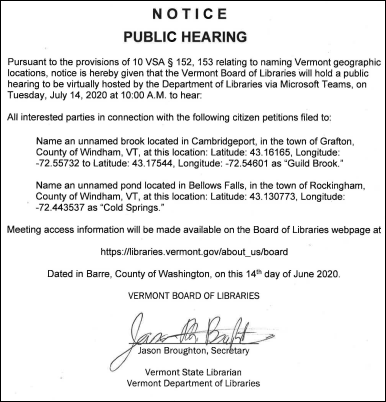 Notice of Public Hearing for Cold Spring and Guild Brook (PDF)
Public notice of Board Meetings also can be found listed under Public Meetings on our events calendar.
Prior Meetings
Agendas
Minutes
Draft
Approved
For information on older Board meeting agendas or minutes contact the Vermont Department of Libraries.