VTLIB is working with public libraries to track their current reopening status and services in the state. The information is meant to give individual libraries better context from their peers when making their own decisions, as well as to give a broad overview of what is going on.
General Information
Questions - There are 29 questions, most of which are yes/no or multiple choice (including 3 new programming questions)
Link to Submitted data (Google Sheets)
In addition to the default Google Sheets sorting, you can sort by going to the menu and choosing Data -> Filter Views, and choosing from: County, Current Status, Library Name, Population, or Revenue.
Schedule (New) - Starting in August, we will be posting updates to the questionnaire monthly, on the first Tuesday of the month.
Updates - Please remember to update us if there is a change to your reported services or status, or if you notice an error. If you have small updates, free to email them to Joshua Muse; if you have larger ones, please submit them through the form. Please note, you can't update directly in the spreadsheet.
Thanks to everyone who has submitted their information. We encourage all public libraries to submit!
Charts (click to enlarge)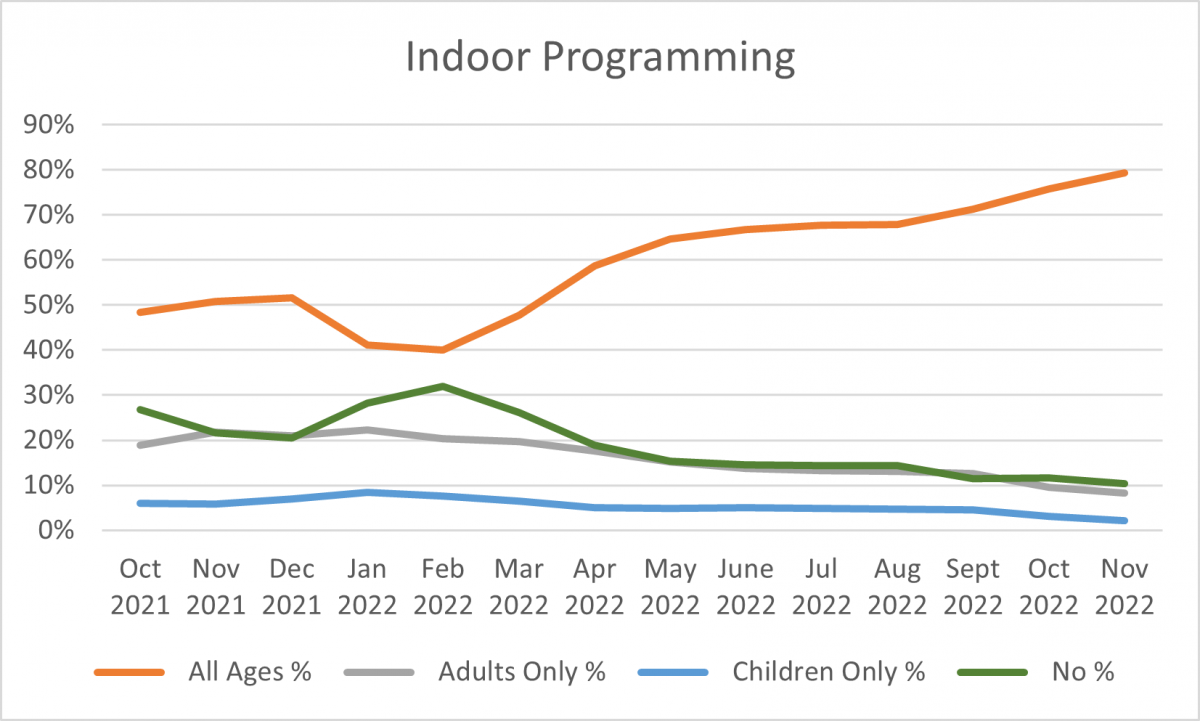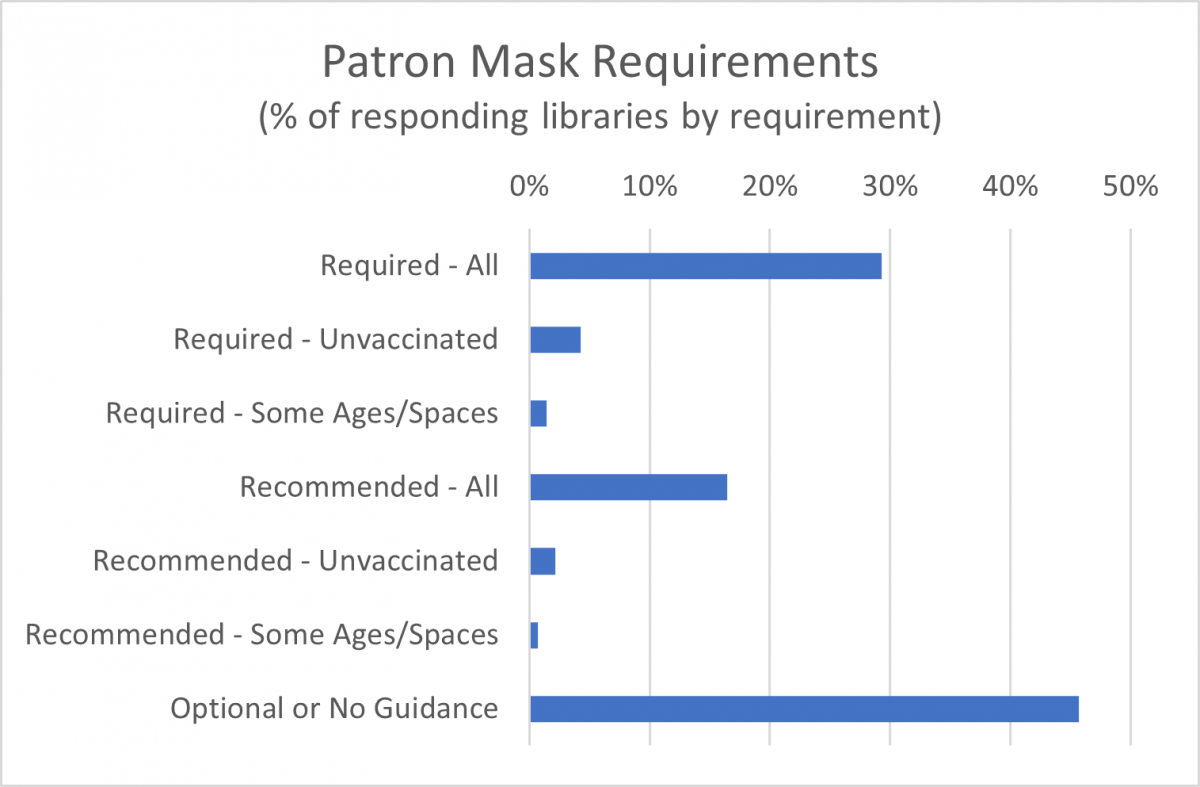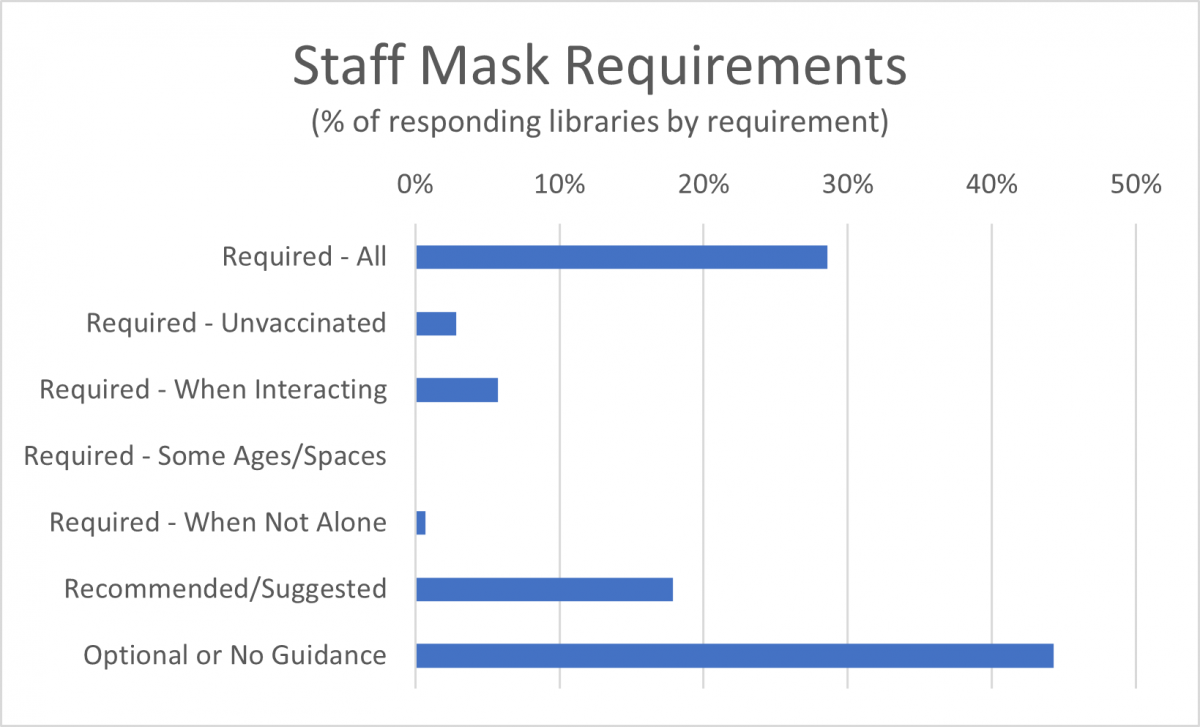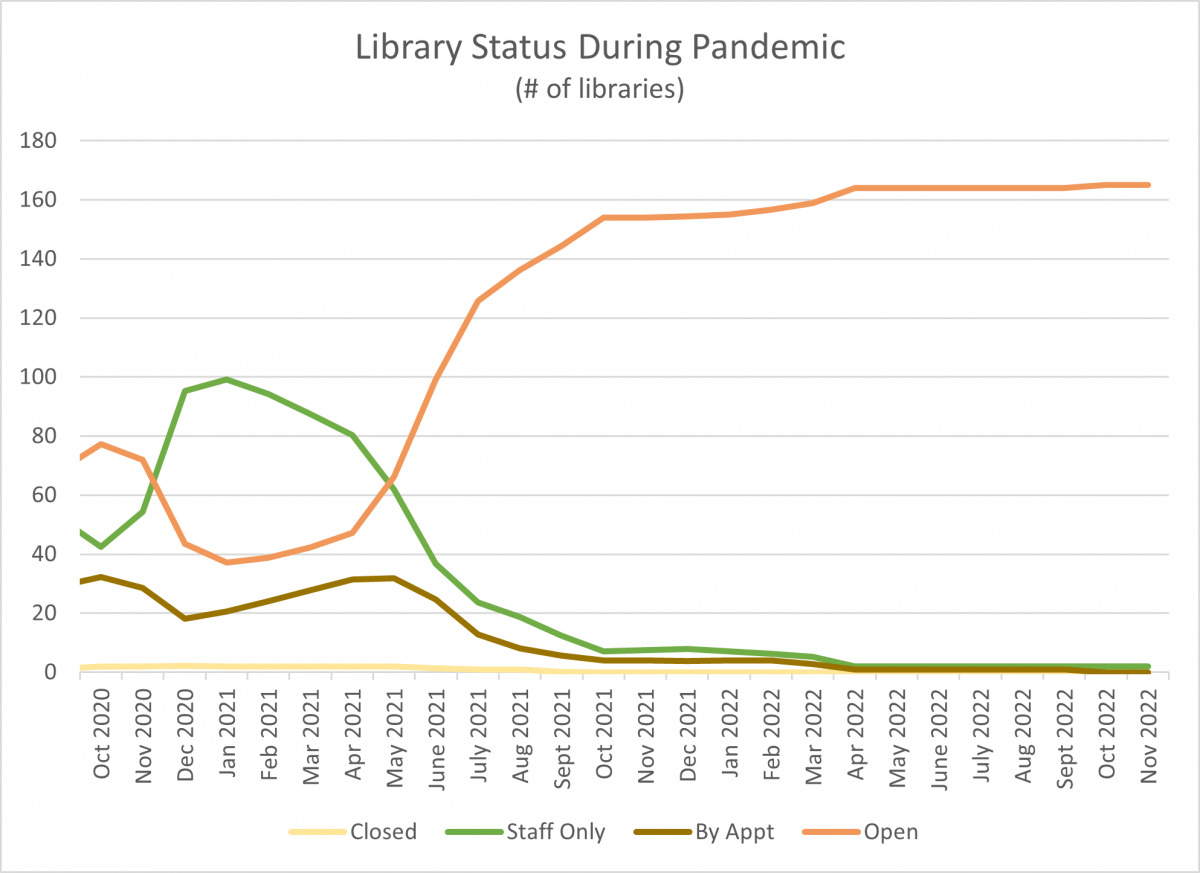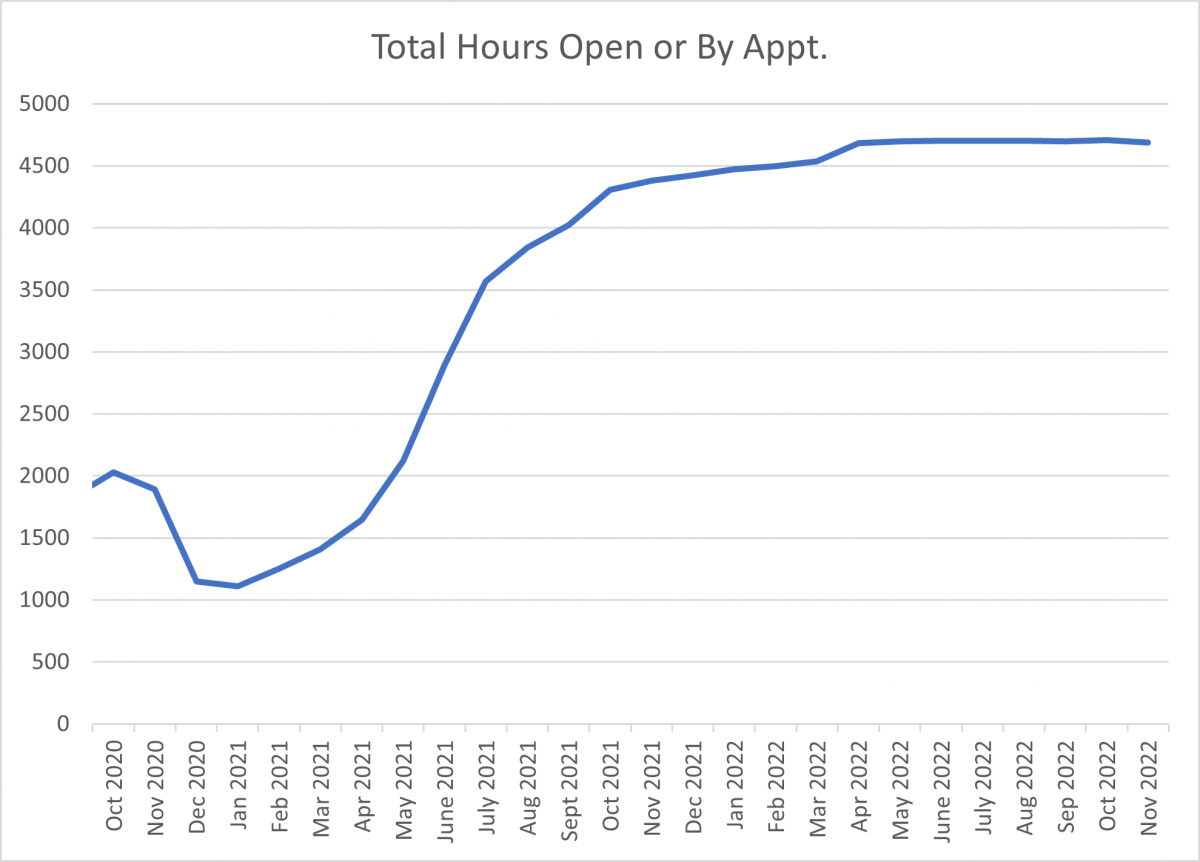 Summary of Results (11/2/22 - 168 responding)
Current status of the library building
Closed = 0 (0%)
Staff only = 2 (1%)
By Appointment = 0 (0%)
Open = 165 (99%)
Current hours as a percentage of full hours for open/by appointment libraries
Average = 92%
Are any staff currently laid off or furloughed?
Yes = 4 (2%)
No = 163 (98%)
Are any volunteers working in the building?
Yes = 125 (74%)
No = 43 (26%)
If patrons are in the building, is there a time limit for visits?
Yes = 19 (12%)
For Some Activities = 9 (6%)
Cycle Patrons Out = 5 (3%)
No = 127 (79%)
Are you creating virtual or recorded programming?
Yes = 92 (55%)
No = 76 (45%)
Do you offer outdoor programming?
Yes = 69 (79%)
No = 18 (21%)
Do you offer indoor programming?
All Ages = 77 (79%)
Adults Only = 8 (8%)
Children Only = 2 (2%)
No = 10 (10%)
For indoor programming, do you require registration?
Yes = 14 (18%)
Some Programs = 21 (28%)
No = 41 (54%)
For indoor programming, do you limit attendance?
Yes = 20 (26%)
Some Programs = 16 (21%)
No = 41 (53%)
Do you offer curbside pickup?
Yes = 150 (90%)
No = 16 (10%)
If you are open to the public, are your stacks open for browsing?
Open = 162 (99%)
Some Closed = 0 (0%)
Closed = 1 (1%)
Do you participate in interlibrary loan? If you are only providing interlibrary loan services within your consortium (Catamount, VOKAL), please answer No.
Yes = 152 (91%)
No = 15 (9%)
Do you offer public WiFi outside of the building?
Yes = 166 (99%)
No = 2 (1%)
If you are closed to the public or open by appointment, do you still offer printing, faxing, scanning, or similar services outside of regular appointments?
Yes = 2 (100%)
No = 0 (0%)
Are you allowing patrons to use the library's public computers – in the building?
Yes = 150 (90%)
No = 17 (10%)
Are you allowing patrons to use the library's public computers – outside the building?
Yes = 57 (44%)
No = 72 (56%)
Are you allowing patrons to use the library's public computers – checkout for home use?
Yes = 39 (31%)
No = 87 (69%)
If you are open to the public, do you currently offer meeting space?
Yes = 99 (62%)
No = 45 (28%)
Don't Have Meeting Space = 15 (9%)
Do you offer masks for patron use?
Yes = 152 (92%)
No = 13 (8%)
Do you require masks for patrons?
Required - All = 41 (29%)
Required - Unvaccinated = 6 (4%)
Required - Some Ages/Spaces = 2 (1%)
Recommended - All = 23 (16%)
Recommended - Unvaccinated = 3 (2%)
Recommended - Some Ages/Spaces = 1 (1%)
Optional or No Guidance = 64 (46%)
Do you require masks for staff?
Required - All = 40 (29%)
Required - Unvaccinated = 4 (3%)
Required - When Interacting = 8 (6%)
Required - Some Ages/Spaces = 0 (0%)
Required - When Not Alone = 1 (1%)
Recommended/Suggested = 25 (18%)
Optional or No Guidance = 62 (44%)