The Institute of Museum and Library Services (IMLS) collects statistics for public libraries nationwide. These stats include all aspects of the library, including finance, collections, circulation, programming, and more. Each year, Vermont public libraries submit their data to the Department of Libraries (read more about that process here). Data is submitted to IMLS, who publishes national data (roughly 2 years behind). The Department makes statewide stats available below.
If you have any questions, please email Joshua Muse.
Vermont Public Library Statistics
FY2022
FY2021
FY2020
FY2019
FY2018
FY2017
FY2016
FY2015
FY2014
FY2013
FY2012
FY2011
If you require statistics from previous years, please contact the Vermont Department of Libraries.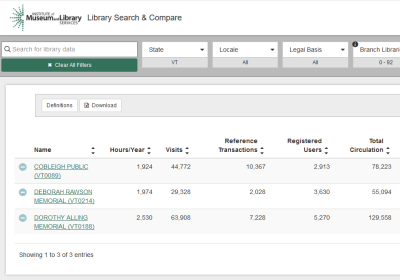 Search and Compare Tool
IMLS offers an online tool which allows users to see stats for one or more public libraries (state or nation-wide), on the basis of circulation, revenue, staff, visits, and other stats. You can also view a summary for an individual library, and see some of its numbers over time. Be aware that the data is typically 1-2 years behind, because of the time necessary to work with the data.
Search and Compare Tool - https://www.imls.gov/search-compare/