The annual report provides a broad statistical summary of a year in the life of a public library, from visitation and programming, to finances and staffing, to circulation and holdings (both physical and digital). The report is submitted each year by every public library, and is used by our department as well as IMLS to help plan for the future, and to document the significance of libraries throughout the nation.
Most questions are determined by IMLS (Institute of Museum and Library Services) with input from the State Data Coordinators. A few questions have been specifically added by the Vermont Department of Libraries.
Updated dates for this year's submission:
New Dates for 2020: Dec. 29, 2020 - Feb. 26, 2021
Extension available (by request) to Mar. 12, 2021
Web Address - https://collectconnect.baker-taylor.com/login.aspx
Username and passwords are unchanged, and are being sent (along with other pertinent info) to the point of contact for each library.
What time period does the report cover?
This is one of the most potentially confusing aspects of the report. Libraries use many different fiscal calendars: Calendar Year (Jan 1-Dec 31), Traditional Fiscal Year (July 1-June 30), Federal Fiscal Year (Oct 1-Sept 30), and others!
Libraries should submit their last fiscal year that ended by Oct. 15. If they follow the traditional (July-June) or Federal (Oct-Sept) fiscal years, submit the current year. However, if you follow the calendar year (Jan-Dec), you should submit last year's data. I know this seems weird.
Please note – A few libraries are off-schedule. I will get in touch with you separately.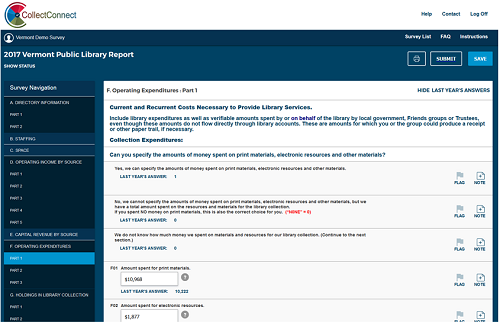 What's new for 2020?
New questions - Unsurprisingly, there are a bunch of new questions regarding the COVID pandemic period, if it occurred during your reporting period. Weeks closed due to COVID; Hours open normally; Hours by appointment; Hours for curbside; Curbside patrons; Curbside circulations; In-person programming and attendance; Virtual programming and attendance; Recorded programming and views; Passive activities and estimated uses; Pandemic questions (yes/no/na). In addition, there are questions asking whether annual visits and reference questions are an actual count or an estimate.
Removed questions - Fax Number; Offer a WiFi connection; Type of internet connection; Offer internet filtering; Filtering product; Do you have an ILS; What type of ILS.
Updated language
Important Tips
COVID Questions (Updated) - What should you do if your reporting period does not include the pandemic?

The COVID weeks & hours questions (A23a, A23b, A23h, A23c, A23d, and A23e) can be left blank.
For pandemic-related services - curbside users (H06b), curbside circ (H14a), virtual programming (H491-d & H50a-d), recorded programming (H51a-b), and self-directed activities (H52a-c) - please enter 0.
For the COVID yes/no questions at the end (L01-L13), please enter N/A for each.
Don't worry if you followed earlier guidance, or did something different; we'll make sure everything is consistent before finalizing the data.

Browser Buttons - You should avoid using your browser's back and forward buttons with the survey site, and should only use the site's Prev / Next buttons and the left side navigation to move between the pages. The survey is made to save content when any of those are clicked, while forward and back can cause it to lose filled-in information or otherwise behave strangely.
Browsers - Google Chrome seems to work best (if available). Mozilla Firefox should work, but could have quirks. Please avoid Microsoft Edge, as there are reports of issues.
Link - Make sure you are using the updated link from above - https://collectconnect.baker-taylor.com/login.aspx
Multiple Users - You should avoid having more than one person (or even more than one tab) open in the report at once, as their work can easily overwrite one another.
Stats for Online Resources - We've added a page to help with finding statistics for Vermont Online Library, Learning Express, Overdrive, and more - Online Stats Help Page
Useful Information
Webinars
Webinar on Changes for 2020 (11/18/20)
Webinar Covering the Full Report (11/16/20)
Videos – Baker & Taylor offer some short videos on how to use the Survey Site - https://www.youtube.com/watch?v=M4g0aAQEU7k&list=PLTGPXW7IKkJwQ30kyaLK69GXGzMQVVtuw
Data from Previous Years
You can find the data submitted from previous years on our Public Library Statistics page.