Update - The site for submitting the Public Library Annual Report is now live! See below for updated dates.
The annual report provides a broad statistical summary of a year in the life of a public library, from visitation and programming, to finances and staffing, to circulation and holdings (both physical and digital). The report is submitted each year by every public library, and is used by our department as well as IMLS to help plan for the future, and to document the significance of libraries throughout the nation.
Most questions are determined by IMLS (Institute of Museum and Library Services) with input from the State Data Coordinators. A few questions have been specifically added by the Vermont Department of Libraries.
Updated dates for this year's submission:
Opening Date for 2018 – Nov. 26
Due Date for 2018 – Jan. 31, 2019
Extension available (by request) to Feb. 14, 2019
*New web address* - http://collectconnect.baker-taylor.com:8080/login.aspx
Username and passwords are unchanged, and are being sent (along with other pertinent info) to the point of contact for each library.
What time period does the report cover?
This is one of the most potentially confusing aspects of the report. Libraries use many different fiscal calendars: Calendar Year (Jan 1-Dec 31), Traditional Fiscal Year (July 1-June 30), Federal Fiscal Year (Oct 1-Sept 30), and others!
Libraries should submit their last fiscal year that ended by Oct. 15. If they follow the traditional (July-June) or Federal (Oct-Sept) fiscal years, submit the current year. However, if you follow the calendar year (Jan-Dec), you should submit last year's data. I know this seems weird.
Please note – A few libraries are off-schedule. I will get in touch with you separately.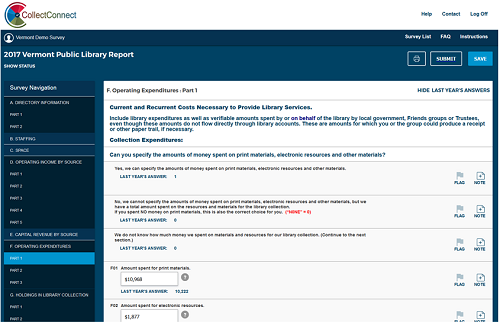 What's new for 2018?
Updated web portal - The new site has some visual changes. All of the same functionality is there, but possibly in different places. Read a short explanation here (PDF).
Downloadable Holdings - Individual items in Listen Up Vermont and RBDigital will be counted under Ebooks/Audiobooks holdings, not as a single database.
Website - This year, IMLS has added a question about the number of visits you've had to your website. This is a pilot question, and we'll consider it a work in progress.
Misc - Several questions have changed from per week to per year (for consistency), and we've tried to simplify some language.
Read a blank copy of the 2018 survey here (PDF).
You can also take a look at our FAQ and What Numbers to Track pages.
Public Library Annual Report Webinar
Monday, Oct. 15, 2018
1 hr. 29 min.
Presentation from the Webinar (PDF)
Data from Previous Years
You can find the data submitted from previous years on our Public Library Statistics page.