The annual report provides a broad statistical summary of a year in the life of a public library, from visitation and programming, to finances and staffing, to circulation and holdings (both physical and digital). The report is submitted each year by every public library, and is used by our department as well as IMLS to help plan for the future, and to document the significance of libraries throughout the nation.
Most questions are determined by IMLS (Institute of Museum and Library Services) with input from the State Data Coordinators. A few questions have been specifically added by the Vermont Department of Libraries.
Updated dates for this year's submission:
Expected Dates for 2019: Dec. 2, 2019 - Jan. 31, 2020
Extension available (by request) to Feb. 14, 2020
Web Address - http://collectconnect.baker-taylor.com:8080/login.aspx
Username and passwords are unchanged, and are being sent (along with other pertinent info) to the point of contact for each library.
What time period does the report cover?
This is one of the most potentially confusing aspects of the report. Libraries use many different fiscal calendars: Calendar Year (Jan 1-Dec 31), Traditional Fiscal Year (July 1-June 30), Federal Fiscal Year (Oct 1-Sept 30), and others!
Libraries should submit their last fiscal year that ended by Oct. 15. If they follow the traditional (July-June) or Federal (Oct-Sept) fiscal years, submit the current year. However, if you follow the calendar year (Jan-Dec), you should submit last year's data. I know this seems weird.
Please note – A few libraries are off-schedule. I will get in touch with you separately.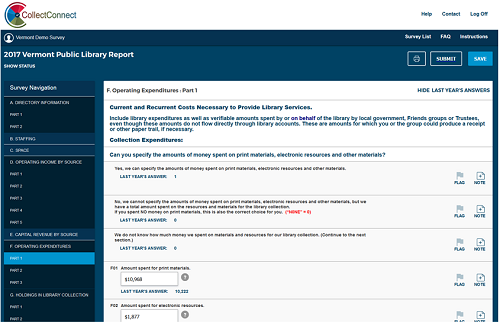 What's new for 2019?
We recommend not using Microsoft Edge while filling out the survey, as there are reports of issues.
New questions - Staff hours for those with a Certificate of Public Librarianship; Non-library-sponsored events held in library facilities. This is a pilot year, as we know many libraries won't have these numbers available this time around.
Removed questions - Total (staff & public) computers; Age of computers; Yes/no questions on computer assistance programs.
Updated language
You can also take a look at our FAQ and What Numbers to Track pages.
Questions for 2019
If you'd like to take a look at the questions, or write down your answers before the survey is open, see these files:
Training
For those who are new to the process, or would just like a refresher, we're offering a webinar (which will be recorded), and an in-person training, which will cover the same material:
Data from Previous Years
You can find the data submitted from previous years on our Public Library Statistics page.