Statistics are collected from over 9,000 public libraries via the Federal State Cooperative System. For the purposes of the statistics, a public library is established under state enabling laws or regulations to serve a community, district, or region.  
The library must be supported solely or in part by public funds and must provide:
Paid staff,
An organized collection of printed or other library materials, or a combination thereof,
An established schedule in which services of the staff are available to the public,
Facilities necessary to support such a collection, staff, and schedule.
The Vermont Department of Libraries works to collect and organize the data which was gathered about Vermont public libraries. Vermont statistics are shown on a state-wide level and for individual libraries.  
Vermont Public Library Statistics
FY2019
FY2018
FY2017
FY2016
FY2015
FY2014
FY2013
FY2012
FY2011
If you require statistics from previous years, please contact the Vermont Department of Libraries.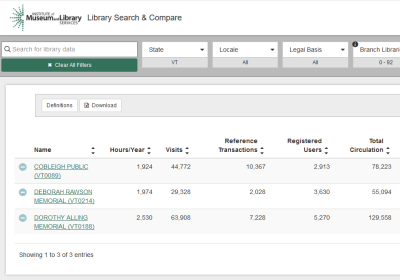 Search and Compare Tool
IMLS offers an online tool which allows users to see stats for one or more public libraries (state or nation-wide), on the basis of circulation, revenue, staff, visits, and other stats. You can also view a summary for an individual library, and see some of its numbers over time. Be aware that the data is typically 1-2 years behind, because of the time necessary to work with the data.
Search and Compare Tool - https://www.imls.gov/search-compare/